Christophe Genty is a photographer who shoots surprise marriage proposal photography in Napa Valley, The San Francisco Bay Area, and beyond. He recently received the prestigious "Best of the Knot 2015" by the well-known print and online magazine, The Knot.com. You can check more of his work at:
http://www.marriageproposalphotographynapa.com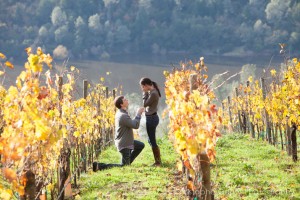 Recently, I have experienced an explosion of calls for Candid Marriage Proposal Photography… something I had never heard of previously, has become incredibly popular it seems, even with celebrities! The Wine Country is such a romantic place for a weekend retreat, and many men find Napa Valley to be the perfect location for a wedding proposal.  So, lucky me, I have been fortunate to be on the radar of many hopeful grooms who want to have their big "on the knee" moment photographed for posterity.
This is such an exciting photo session to plan for the groom-to-be and me.  After we discuss our thoughts and intentions, I get a good idea of locations.  I then scout out the perfect spot, send photographs of potential locations to the groom-to-be, and he chooses where he wants to kneel down on one knee and propose.
On the predetermined date,  I feel a bit like a paparazzi, as I hide behind grapevines with just my humongous, long-zoom lens, sticking out between the leaves…. but, I am able to capture a private moment, so filled with excitement, joy and love.
As a wedding photographer, it is an honor for me to be a part of the very beginning of a couple's nuptial journey.  I love to be hired for the most romantic moments in life and capture them on film to share with generations to come.