Christophe Genty is a wedding photographer based in Napa Valley who works throughout The San Francisco Bay Area, and beyond. He recently received the prestigious "Best of the Knot 2015" once again by the well-known print and online magazine, The Knot.com.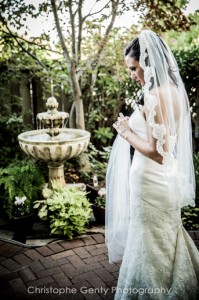 I think we can all agree that a bride on her wedding day is one of the most beautiful images in life. The dress. The jewelry. The hair. The accessories…These beautiful details are put together so artfully, often with many years of thought and careful planning behind the choices, the style, the color, the "feel" for the day. This is a once in a lifetime moment and the brides I have been blessed to work with never cease to amaze me with their beauty and grace. Through photography, the feeling of this incredible day can be preserved through all time to be felt again and again, shared with loved ones, and serve as a reminder of how beautiful love can be.
When arriving at a wedding site, I like to put at least one hour aside with the bride to capture these details that may have taken years to become a reality. Months before the actual wedding day, often during the engagement session, the bride, groom, and I discuss images that they would like before the wedding ceremony. There are times when a piece of jewelry is particularly important due to sentimental value or the shoes have an incredible story behind them. These are the details that are so important in making the images so powerful and discussing this beforehand helps me in understanding the unique vision for the day and therefore, taking the best photographs possible for each unique couple.
An exceptional photograph should evoke emotion – even to a stranger. This is what I strive for. During the moments after the ceremony, when a lot of my clients choose to have bride and groom photos taken, we are able to capture some fantastic shots of the bride and groom separately. This is the time where I am able to artistically able to create the perfect backdrop or highlight the perfect detail. A love story between two people never ceases to provide me with the inspiration to and ability to document this day well. Love is grand, isn't it?
Christophe Genty can be reached at his studio, 707.258.8559 or via email: info@cgphotograph.com