Christophe Genty is a wedding, engagement, and proposal photographer based in Napa Valley who works throughout The San Francisco Bay Area, and beyond. He recently received the prestigious "Best of the Knot 2013" by the well-known print and online magazine, The Knot.com.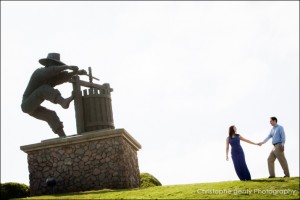 Engagement sessions are a wonderful way to capture the essence of everyday love. The anticipation and romance is always very high, and is communicated naturally through the photographs. These sessions are generally an hour long, and they can take place at some really amazing locations. Even though I am able to suggest places, I love to hear the input of each couple because they usually have somewhere that is very significant to them already in mind. Most of the couples I work with choose to travel to San Francisco or to a local spot within the Napa Valley. The ideal time to do engagement sessions is on a weekday when wineries aren't packed with people, ensuring a more intimate moment.
Engagement photography is a joy to shoot and could serve as the perfect precursor to a wedding. Through these sessions, I am able to establish a relationship with the couple. It is so important to know each individual's personality, to know what works for them and what doesn't because this is their story. I like to think of it as a mini-rehearsal of their wedding day, or simply as an opportunity to memorialize the immense love between two people.
The photographs can be used in a variety of ways, with many people choosing to create a book for guests to sign during the reception, using them on the bride and groom's website, canvas, signature matte, save the date invitations, or just simply having them on a slideshow display.
Getting engaged is the first step in spending the rest of your life together. Of course the wedding is the main event, but when it comes to capturing your story, why not start at the beginning?
Here is a beautiful example of engagement photos used as a display to greet their family and friends as they celebrate their special day.