Christophe Genty is a commercial and event photographer based in Napa Valley who works throughout the Napa Valley, The San Francisco Bay Area, and beyond.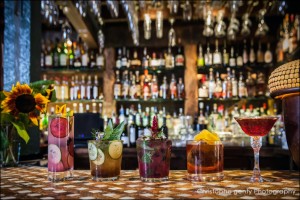 I truly enjoyed photographing Goose & Gander, a well-known St. Helena bar and restaurant owned by Andy and Trisha Florsheim. I had the opportunity to witness them prepare their rustic American dishes and lavish cocktails with my camera. I am impressed and excited by their artful food. Being able to capture people as they create beautiful products in their own environment is what makes commercial photography incredibly fun and unique.
I have had the pleasure of watching this business flourish. As the renovators, Andy and Trisha turned the old Martini House into the new and smart restaurant that Goose & Gander is now. I was pleased to meet the local cocktail legend, Scott Beattie, who is joined behind the bar by Michael Pazdon. The concoctions that they mixed and designed were absolutely stunning, showing that cocktails can be a visual art as well as a flavorful one. Executive chef Kelly McCown also displayed his masterful talent for delicious, eye-pleasing cuisine. It was a struggle for me to not put down my camera and start eating right there and then!
The feel of the restaurant itself was just as welcoming as the staff. With an outdoor dining area that reflects the ambiance of the building and hosts live music on the Sundays of summer months, Goose & Gander is perfect for a relaxed evening of fine dining. They are open from 12 to 12 serving lunch and dinner daily.