Christophe Genty is a photographer who shoots surprise marriage proposal photography in Napa Valley, The San Francisco Bay Area, and beyond. He recently received the prestigious "Best of the Knot 2013" by the well-known print and online magazine, The Knot.com. You can check more of his work at:
http://www.marriageproposalphotographynapa.com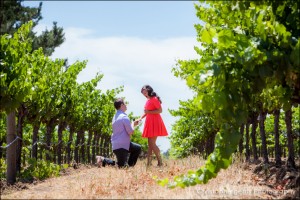 Aaron called us to plan a candid proposal photography session on the 14th of June at the O'Brien Estate here in Napa Valley. With careful planning from the location's tasting room manager, David Corkett, it was a huge success. Aaron and Meghan are a beautiful couple who set the tone for future proposal photography sessions coming this year. The groom-to-be cleverly picked the location for the shoot, as his fiancé's last name is also O'Brien. Under the impression she had won this trip, had chosen the date, and upgraded them to a suite, she was already on cloud nine. Who knew cloud ten existed? Surrounded by lush vineyards underneath a bright blue sky, there could not have been a better place for this couple to begin the rest of their life together.
On the day of the proposal, after meeting with Aaron and ironing out a few last minute details, I hid in the vineyard until the time came for the magical moment. While taking pictures, it was impossible to keep a smile off of my face. The emotion of the story they allowed me to capture was breathtaking. Meghan was so animated and completely unaware of my true purpose of being there until I revealed myself. Candid proposals are my absolute favorite, and this was a thrilling experience for me as always.
Not only were the people amazing, but the setting was as well. The O'Brien Estate is a small, intimate location with rows of vineyards, carefully placed picnic tables, and walls covered in vines that are all picture perfect. Thank you Bart, Barb, and David for making their special time go so smoothly!
Thank you, Aaron and Meghan, for sharing this enchanting moment with me. I will never forget it!