Christophe Genty is a wedding photographer based in Napa Valley who works throughout the Napa Valley, The San Francisco Bay Area, and beyond. He recently received the prestigious "Best of the Knot 2013" by the well-known print and online magazine, The Knot.com.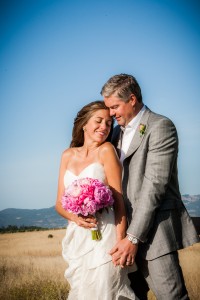 At the end of May, I had the pleasure of capturing the elopement of Melissa and Ryan, a delightful couple from Atlanta. Out of the many wineries and local Napa Valley settings I have photographed, this was my first job at the Carneros Inn. I was absolutely blown away by the accommodations and breath-taking scenery at this new location. The Carneros Inn, nestled between Napa and Sonoma, is a local hot spot for intimate getaways. Surrounded by vineyards and the rolling hills of the valley, it sets the perfect stage for elopements, weddings, and romantic vacations.
Encompassed by a beautiful landscape, my excitement for the photo shoot only grew when I met Melissa and Ryan the morning of the ceremony. It's customary for me to meet with clients beforehand to get a sense of who they are and to establish a relationship, but I also had the opportunity to scope out possible photo opportunities at this brilliant spot. This couple was just as vibrant as their surroundings, and even more spectacular to photograph.
It wasn't long until laughter and bright smiles replaced the shy atmosphere.  These charming southerners came equipped with their effortless hospitality and enchanting accents, making them an absolute pleasure to work with.
A big thank you to the event planner of the Carneros Inn, Soo and Rev. Blaine who made this experience an easy and enjoyable one!
Thank you so much, Melissa and Ryan, for allowing me to be apart of this incredible day.