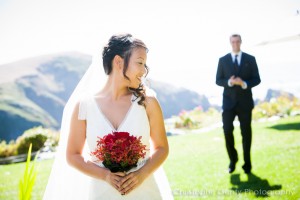 A very popular trend in wedding photography here in Napa Valley and the Wine Country is the "First Look" photograph. The "First Look" photograph is where the bride and groom have their formal shots taken before the actual ceremony. The moment when a couple sees each other for very first time… well, it is quite simply magical. This is an incredibly private moment filled with eager anticipation, an enchanted instant where the groom actually sees his bride in her gown for the very first time, and I capture this romantic rendezvous on film. First Look photographs are nothing short of delicious.
I schedule this intimate photo shoot roughly an hour before the wedding ceremony so the bride's hair and makeup are flawless, the gown is impeccably steamed, and the groom looks dashing in his tuxedo.  I always take special care to make this moment incredibly special and romantic.  Traditionally, the couple would wait to lay eyes on each other as the bride was being escorted down the aisle in front of all of their guests.  Now, in the first look photo session, this highly anticipated moment, is private, and I capture this tender moment in an intimate and incredibly romantic setting.
Of course, "First Look" photos are always optional, as many couples opt to be traditional and they wait to see each other for the first time at the ceremony itself.  Nevertheless, this is a trend that I don't think will go away anytime soon.  In fact, First Look photographs have become quite popular.  It is definitely something we will want to discuss at your consultation, so you are able to make an informed decision, and we can schedule accordingly.
As you are making your decision, be sure to follow your heart, and whatever you decide to do, I will be there to capture your tender moment, excited glance, and romantic touch on film.  Ultimately, it is what I do best.