Christophe Genty is a commercial and event photographer based in Napa Valley who works throughout the Napa Valley, The San Francisco Bay Area, and beyond.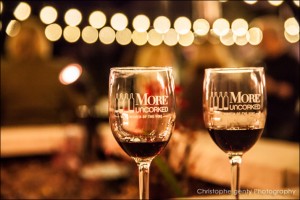 One of the perks of living in wine country is quite obvious: the wine. I was granted the opportunity to photograph the MORE Uncorked/Women of the Vine 2013 event at the Westin Verasa here in Napa Valley, which was sponsored by MORE Magazine and WineDirect.com, a popular Napa-based wine fulfillment company. With attendees such as Marisa Taylor Huffaker of Rutherford Hill, Molly Hill of Sequoia Grove, Amelia Morán Ceja of Ceja, and Lisa Bishop Forbes of Chalk Hill wineries, the courtyard was filled with powerful women who make some of the best wine in the world.
Of these women, Deborah Brenner is the founding mother of this first-of-its-kind wine club. With her motto, "Life is a Journey, Enjoy it One Sip at a Time," Ms. Brenner has inspired many to pursue their dreams in and outside of the wine business, and was such a pleasure to work with.
As I made my way around the event tables, I took photos of each winemaker and a bottle of their product. Everyone was so photogenic! Among the crowd, there were entrepreneurs from all over the country, even international locations. Genevieve Janssen, the French director of winemaking from the famous Mondavi Winery, also joined in the festivities. The air was simply buzzing with conversation as wine was served and stories were shared
This was more than a commercial event. This was a learning experience for me as well as the female winemakers who work to provide the Napa Valley with its reputation for delectable wines. Thank you, Ann Baird from MORE Magazine, for providing me the opportunity to capture such an empowering event, and thank you to all the Women of the Vine who made this possible.