Christophe Genty is a Napa Valley Wedding photographer who works throughout the San Francisco Bay Area as well as other locations nationwide and internationally. Contact the studio for further information 707-258-8559.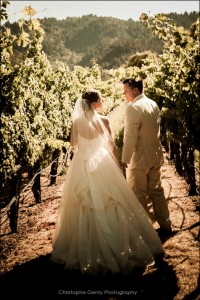 Emilie and Cory, a young couple from Scottsdale, Arizona had the most beautiful destination wedding at Brix in Napa.   They picked a spectacular venue for their wine country wedding as Brix offers Vineyard property, breathtaking gardens, and incredible views of the Mayacama Moutains.  Spectacular
This was a lively wedding with lots of family and friends.  The groom comes from a huge family:  he has four brothers and one sister, and they were a very animated crew.  They were loads of fun to photograph!  And… Cory and Emilie had just welcomed their gorgeous,  six week-old baby girl, Madison to the world.  Emilie looked so amazing having had a baby just 6 weeks previously, and the baby is absolutely adorable.
This was a lovely family, and a fantastic wedding full of fun, fantastic views, and amazing food and wine.  It was certainly a day to remember!  Congratulations Cory, Emilie, and Madison.  May your life be always filled with love and happiness.