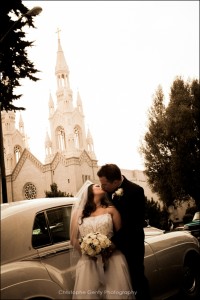 I recently had the pleasure of photographing a beautiful wedding at St. Peter and Paul Church in San Francisco, otherwise known as "The Italian Cathedral of the West."  This church is in fact, the Italian-American cultural center of the Bay Area.  It is so old world looking, so old world feeling… you just plain feel like you are in Italy, especially if you attend one of the masses held in Italian!  For a young Italian-American couple like Marisa and Randy, it was the perfect location for their wedding ceremony.
Immediately following the ceremony, the wedding party and I whisked off to The Palace of Fine Arts for formal wedding portraits, and the results are gorgeous.  Note to all not from San Francisco:  As Mark Twain wrote, "the coldest winter I ever spent was a summer in San Francisco."  And for those of you from out of town… nothing has changed since the days of Mark Twain.  He was right!  It is always cold there, glad I brought a coat, but the bride and bridesmaids were definitely chilly.  So we were in and out of there in minutes –well worth the brief chill for such breathtaking photos!
In true Italian-American style, Marisa and Randy held their reception at the San Francisco Italian Athletic Club in North Beach.  The club was beautifully staged for a gorgeous reception with roughly 250 friends and family attending.  I must say though, even though this was a large wedding by most people's standards, the reception felt very intimate, filled with love and support for the bride and groom.
Ultimately, this was the perfect wedding for this loving, young couple.  It was an honor to photograph the beginning of their life together.