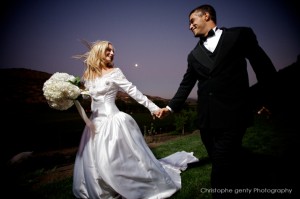 With the influx of amazing photographic technology available to anyone who can afford the luxury, so comes the influx of amateur photographers doing the work of professionals.  Now, don't get me wrong, I love that so many people have taken photography to be their new passion, but not anyone can do professional work, even though they may own a professional camera.
There are several times in one's life when a professional photographer is well worth the price, and unfortunately, some people decide to cut corners and have a random friend snap away at their wedding.  Unfortunately, the nightmare begins there.
A business associate of mine hired a photographer for his wedding off of Craigslist.  Sadly, the photographer actually arrived at the wrong wedding, took photographs for a full two hours before realizing he was at the wrong event…  Needless to say, it was a legitimate nuptial nightmare.
On a day as important as your wedding day, your wedding photography is not a place to cut corners on your budget!  Be sure to hire a professional wedding photographer who knows how to work with light, composition, poses, timelines, etc such as Christophe Genty in Napa, California.  Christophe specializes in Wine Country Weddings in both Napa Valley and Sonoma Valley.  When you hire a professional wedding photographer like Christophe, you will have absolutely no regrets.