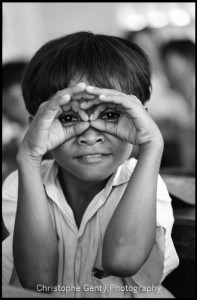 In Vietnam, children who are born with congenital deformities, or children who become handicapped because of illness such as polio, are ostracized, not allowed to attend school, nor are they able to work as adults. These children are truly condemned. With surgery, not only are they able to walk, but they become assimilated into their communities where they can be productive members of society. Mission Peace brings hope back to families who have none, and changes the lives of children, one person at a time.
The lives of these children change dramatically, and the pay-off is extraordinary.
I was contacted by Steve Warren of Mission Peace to be the photographer for their very first, humanitarian aid project in Vietnam. Steve had been drafted for the Vietnam War and became an intelligence officer after learning Vietnamese. He was stationed for two years in the Mekong Delta where he was the only American soldier in a small village near CanTho in south Vietnam where independent militia were supported by the US.
While working and collecting intelligence about the movements and plans of the North Vietcong army, Steve fell in love with the area and the villagers. The villagers took him in as one their own men. Well after the war was over, Steve wanted to give back to the community for which he cared so deeply during the war.
Mission Peace was partially funded through grants and generous donations, but the bulk of the expense came out of Steve's own pocket. The first team to go to Vietnam in October 2000 was made up of three physicians who specialize in foot and ankle surgery, Dr. Bruce Lehnert, Dr. Jeff Spanko , Dr. Barry Minerof, a translator, a photographer (me…) and Steve. Being as it was the first trip of many, it was quite an honor to be a part of such a prestigious group working towards such a worthwhile cause.
My job, was to document the different activities of the team from the first meeting with Vietnamese officials at the Can Tho General Hospital, to the patients' screenings, surgeries and post-operative procedures as well as capturing the culture and the villagers.
The International Extremity Project
. Today, I continue to work with many non-profit organizations telling their story through photographs. There is absolutely no question: I find this work life changing, heart-wrenching, and quite simply the most gratifying work I could ever find.