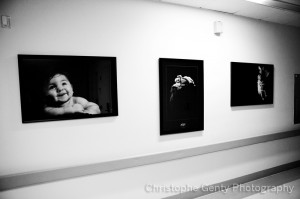 In October, I hung a collection of maternity and baby photographs in the Maternity Ward of Queen of the Valley Hospital in Napa, CA. This is a permanent collection of both pregnancy pictures, as well as several photographs from my Bebe Collection. The Bebe collection encompasses the first year of a child's life from newborn, to 12 months.
Previously, the walls were quite stark in the department, but with the addition of fifteen, large-scale photographs, the walls have become a gallery, and for the people in the waiting room, it adds a wonderful feel and artistic point of view to the Halls of Labor and Delivery.
I have received lots of positive feedback from the patients and Queen of the Valley staff. It is amazing what a tremendous impact artwork can have in a space. I feel fortunate to be able to share my work in such a lovely part of my community –where babies are being brought into the world –-and what a gorgeous part of the world Napa Valley is!
Next time you are at Queen of the Valley, be sure to take a look at the walls of the Labor and Delivery Department. You are sure to smile!