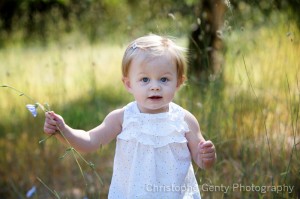 At twelve months, your baby has definitely become his/her own person. There is no question if you have a shy baby, an outgoing baby, or Daddy's little girl. Babies at this age are just plain yummy. They observe the world through fresh eyes, experiencing everything for the first time –first piece of chocolate birthday cake, first ride on a steam train, first few words spoken, and of course, they are beginning to attempt those amazing first steps. We will witness the wonder of their movements and lightness of being together, and capture them on film forever!
Be sure to bring lots of props for your baby to play with. If there is a favorite toy, a shaker, or blanket bring them. If you have a marvelous hat or two, or even sunglasses — babies LOVE to play with sunglasses… bring them and we'll have a blast.
Twelve months is an incredibly magical time in a baby's life. We will capture it for you to treasure always.