Silverado Dental Care in Napa, approached me to photograph their office and staff for their new website, and I was happy to accept. One of the photographs was featured on the cover of July's issue of Napa Valley Marketplace Magazine!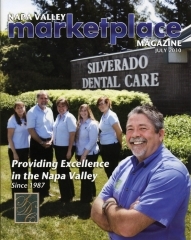 The staff at Silverado Dental Care is so incredibly kind and personable, they make you feel right at home as soon as you walk in the door, and I must say… this is a first for me at a dental office!  The atmosphere is warm and inviting, and the staff is not only nice to their patients they also seem to be the greatest of friends with each other.
Dr. Ringard is nothing short of professional, and so cool to work with.  The photographs from our day together reflect his style of care combining an eagle eye for precision, with good conversation and a smile.
Using the photographs taken the day of our shoot, I have created a video for them which can be used as a unique, marketing tool.  This video is a highlight in Silverado Dental's newly revised website, and it can also be seen in their waiting room.  Their new and returning patients now have the opportunity to familiarize themselves with the office, the staff, and their dentist.  Its a win-win for all –especially when you are as personable as Dr. Ringard!
Thanks Silverado Dental Care –I had a great time working with you!!!  Can't wait for my next crown…