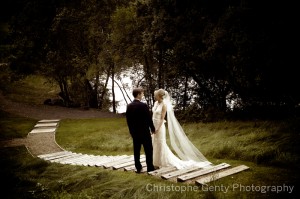 I'm always in complete awe at just the sheer beauty and seemingly unlimited natural settings Napa Valley provides for magical wedding photographs and Meadowood is certainly no exception.  It is GORGEOUS!!!
Meadowood is located in St. Helena in the heart of Napa Valley – the property is a private haven nestled on two hundred-fifty wooded acres with abundant gardens and natural water features where there is a complete feeling of seclusion and privacy.
It is always a joy to work with another artist, and when I met Geoff and Kim, a very creative couple, I knew we would share a special day together.  They wanted to create a dramatic, yet whimsical visual for their special day.  We paired traditional formal shots with modern wedding photography in avant-garde dynamic angles and images.
The setting worked perfectly.  Because of the acres and acres of natural gardens and flowers I took advantage of the different kinds of light, shade and backgrounds to create a variety of dramatic and emotional, wedding photographs.
The ceremony itself was situated on the property near the reception area, and the convenience of a location like this creates a completely stress free environment for all concerned which of course is reflected in the photos from the day.
As you can see from their incredible images, the bride, groom, family and friends were thrilled with the wedding location allowing for truly unique wedding day memories that last a lifetime!