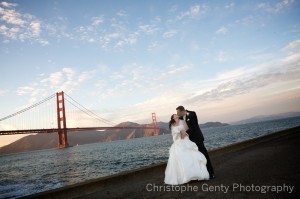 Nick Masset is a baseball player for the Cincinnati Reds, so he and his bride, Jennah travel all over the country for work, but for their wedding day they wanted to have our stunning San Francisco Bay as a location and backdrop for their wedding photographs.  There is no question, Nick and Jennah covered all their bases in San Francisco on their big day!  They chose to have their wedding ceremony at the spectacular St. Peter and Paul Church in the North Beach district of San Francisco.  This church is nothing short of breathtaking in the heart of one of the most romantic neighborhoods in the city.  For their reception, they held it at the stylish Terra Gallery in the SOMA district where all the hip restaurants and nightclubs are located in the city.
To highlight the city, we decided to shoot in Crissy Field near the Palace of Fine Arts and the Marina District. The pier offers a fabulous vantage point for placing the iconic Golden Gate Bridge perfectly in the background which frames each shot with drama and romance.  There is nothing like shooting wedding photographs in San Francisco.  It is truly, a gorgeous and idyllic city, and clearly, Jenna and Nick took advantage of everything "The City by the Bay" has to offer.  We covered nearly the entire city, in one day –their wedding day!
Nicholas and Jennah's wedding, from start to finish, was flawless thanks to Mirella Riga.  She is an outstanding wedding planner.  When Mirella is running the show, my job as the photographer, is so much easier.
"The photographs were absolutely amazing. Jen and Nick were so fortunate to find you. They could not be happier with their photos, and everyone who has viewed them, feels the same.
Thank you so much for giving them the wedding pictures they hoped and dreamed of so that they will have the memories documented for years to come. Best regards, Lorrie" (mother of the groom)